News Headlines
check News page for details
•
Watch for announcement
and details of our annual
Junior Awards Banquet.
_____________________
Welcome to the Saint Paul Ski Club!
(hover your mouse over each thumbnail ... larger image shows at left)
The St Paul Ski Club is a ski jumping club, with facilities in the
St Paul suburb of Maplewood. The club has jumps ranging in
size from 5 to 46 meters, which provides learning opportunities
for beginners, and training facilities for experts. Our 20 and
46 meter hills are equipped with synthetic all-weather surfaces.
Video below was taken at our Christmas Beginners' Camp in 2005
(no audio)



In flight on our 46 meter hill. Kids learn skills on
our smaller 5, 20, and 30 meter hills before they
are qualified to fly from the 46 meter hill.
(photos by Kris Edlund)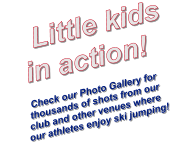 Click "F" to
Visit us on
Facebook!
SPSC Summer
Training: 1958
Four SPSC jumpers using an
ingenious takeoff ramp, and
landing in the St Croix River!
Great way to beat the heat
!
1939 US National
Championships
Did you know that SPSC
hosted the US National
Championships in 1939?
Watch this video, made
from old movie footage
and narrated by the late
Tom Harrington.
Click buttons to watch videos



Copyright 2002-2021 St Paul Ski Club

Junior Awards Banquet Set for May 25 at Clubhouse
: see News Page